Our Approach
Faith, Family and the Outdoors.
Faith is where we start, because The Father should always come first in our lives.   We should always walk with Him in everything we do and treat others as He would treat them.  What we do to others, we do to Him.
Family comes next.  The church at home is what brings us closer to God and gives us the strength to walk in his footsteps.
Outdoors, because that is who we are, what we do, and where we spend our time.
Our Story
Every business has a beginning.  Ours started during Lent of 2016.  I was really trying to focus on the whole Lenten process, but I kept getting hung up on the alms-giving. I did not feel like anything I could do was enough, so I spent a lot of time praying about it.  It did not happen over night, but over time the Holy Spirit really was speaking to me and started guiding me in the right direction.  Take what you love, and turn it into something worth while.
Stag and Cross Outdoors was born.  While we are still in the infant stages and learning to walk, we have some great plans for the future.  With God's Grace we will reach those future plans and bring people closer to Him and the beautiful outdoors .
Meet the Team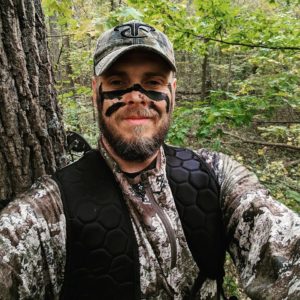 Jeremy V. Hollis
Founder