About Us
We are an Ohio based, 510(c)(3) Public Charity, (EIN: 84-4636949).
Purpose: Strive to heal America's military, veterans, first responders, and their families from the effects of post traumatic stress through an authentic Christian encounter in the outdoors.
Vision: Transform the approach of dealing with post traumatic stress through Christ-centered outdoor experiences.
Mission: A field to faith approach in dealing with post traumatic stress, creating fellowship and fostering memories through life-changing outdoor adventures. The help of our generous benefactors and partners allows us to provide these monthly events at no cost to those who served and their families because no one serves alone.
Staff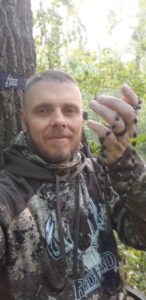 Jeremy V. Hollis – Chairman of the Board, President, CEO, Treasurer, and Secretary
Jeremy is a retired police officer and a Catholic convert currently working at Bass Pro Shops and attending Holy Apostles where he is working on his Master's of Theology with a concentration in Sacred Scripture. His passion for the outdoors is what helped to bring Stag and Cross Outdoors to its true mission.

Carlos Bersabe – Board of Directors/Vice President
Carlos is a Catholic "re-vert," husband, father, and currently serves in the United States Air Force. He holds a graduate degree from Holy Apostles in Catholic Moral Theology. ​When not engaged in overtly faith-filled activities, Carlos and his family enjoy God's creation through hunting, fishing, camping, and anything outdoors.